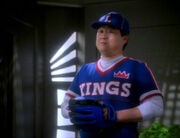 Appendices
Edit
References and notes
Edit
↑ This information comes from a baseball card seen throughout Star Trek: Deep Space Nine on Ben Sisko's desk, notably in DS9 episode: "The Storyteller" and "If Wishes Were Horses".
This article or section refers to licensed content which has not yet been released.
It contains information that may change frequently as the expected release date approaches. For in-universe perspectives, this information may be considered speculation until the source is available.
Dates listed here reflect the official release date of publications; prose publications typically become available in the final weeks of the preceding month, but have no set release date; comics do have specific release days, which normally occur at intervals throughout their release month.



September
Edit
To be announced
External links
Edit