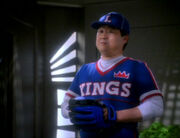 Appendices
Edit
References and notes
Edit
↑ This information comes from a baseball card seen throughout Star Trek: Deep Space Nine on Ben Sisko's desk, notably in DS9 episode: "The Storyteller" and "If Wishes Were Horses".
Title
Series
Date
Media
Notes
Image
The Rings of Time

Chapters 1, 3, 5
The Original Series
June 28 - July 2020
novel
The USS Lewis & Clark, the first manned space mission to Saturn, launches from Earth, under the command of Colonel Shaun Christopher. Blogger Zoe Querez "stows aboard" during the months of their voyage to the planet.
The Rings of Time

Chapters 7, 9-10, 12, 14, 16, 18, 20, 22, 24, 26, 28-29
The Original Series
September 2020
novel
Captain James T. Kirk gets temporarily stranded in the year 2020 aboard the USS Lewis & Clark (from the year 2270), inhabiting the body of Colonel Shaun Christopher.
External links
Edit
Ad blocker interference detected!
Wikia is a free-to-use site that makes money from advertising. We have a modified experience for viewers using ad blockers

Wikia is not accessible if you've made further modifications. Remove the custom ad blocker rule(s) and the page will load as expected.