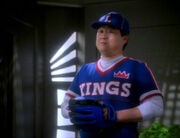 7 October 

In baseball, the Fairbanks Icebreakers played against the Phoenix Sunsets for the championship of the American League. The Icebreakers lost that game 4-3. The Icebreakers and their history remained a point of some pride to natives of Alaska for centuries after the team's dissolution.[4]
Appendices
Edit
References and notes
Edit
↑ TNG episode: "The Big Goodbye".
External links
Edit