Ad blocker interference detected!
Wikia is a free-to-use site that makes money from advertising. We have a modified experience for viewers using ad blockers

Wikia is not accessible if you've made further modifications. Remove the custom ad blocker rule(s) and the page will load as expected.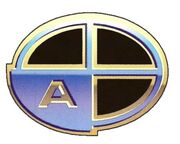 218 Persei was a star system located in the space of the galaxy's Alpha Quadrant.
This system was visible from Earth in the Sol system in the constellation of Perseus. This system was within boundaries of territory claimed by the United Federation of Planets, near the border of the Romulan Star Empire.
In the 2270s decade, when Captain James T. Kirk was defining a patrol area for a small fleet of Starfleet starships under his command, he used 218 Persei as a landmark defining the edge of the patrol area to the galactic north, opposite southernmost landmark 56 Arietis. (TOS - Rihannsu novel: My Enemy, My Ally)
Connections
Edit