Ann Carol "A.C." Crispin (April 5, 1950 - September 6, 2013) was a prolific author who wrote several Star Trek related works.
She died on September 6, 2013 after a long battle with cancer.[4]
Star Trek Bibliography
Edit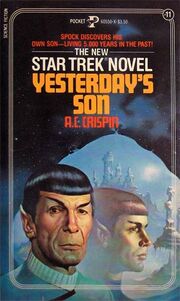 This article is a stub relating to an author, illustrator or other publishing production information. You can help our database by expanding on it.
Ad blocker interference detected!
Wikia is a free-to-use site that makes money from advertising. We have a modified experience for viewers using ad blockers

Wikia is not accessible if you've made further modifications. Remove the custom ad blocker rule(s) and the page will load as expected.