For other uses, see House.
A House Divided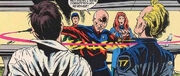 The USS Enterprise is on a mission to the Tantalus system to help convoy prisoners from Tantalus VII. There is a subspace phenomena that is threatening to destroy the space station and a very important Trill prisoner. Kareel Odan is along for the mission to oversee the Trill's treatment.
References
Edit
Characters
Edit
Niles Carruthers • Beverly Crusher • Keb Dalor • Data • Hargon • Hibero • Geordi La Forge • Odan • Jean-Luc Picard • William Riker • Sartur • Sherwood • Trelia • Deanna Troi • Ulat • Worf

Referenced only 
Starships and vehicles
Edit
Locations
Edit
Races and cultures
Edit
States and organizations
Edit
Other references
Edit
ambassador • anesthizine • battle bridge • captain • chicken • chicken soup • chief • combadge • doctor • Earl Grey • first officer • gas • geese • Hippocratic Oath • host • impulse manifold • intruder control circuits • lickspittle • lieutenant • medkit • mutiny • Number one • pattern separator • pulsar • rat • recirculator • Rigellian bloodworm • saucer separation • sterile field • supernova • torpedo • transporter • tribunal • warp drive
Appendices
Edit
Data: Doctor Crusher are you fully functional?
Picard/Dalor: What does this body like...? What Does he Like...? Tea...Earl Grey...Very hot...(He burns himself) GAAAHG!
Connections
Edit
Ad blocker interference detected!
Wikia is a free-to-use site that makes money from advertising. We have a modified experience for viewers using ad blockers

Wikia is not accessible if you've made further modifications. Remove the custom ad blocker rule(s) and the page will load as expected.