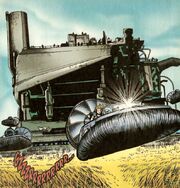 Agriculture, or farming, is the production of food and resources by the processes of growing planets and rearing animals.
In the 23rd century the planet Prairie took agriculture to extreme proportions with huge fields of produce harvested over periods of months by massive crewed vehicles called harvester rigs. (EV comic: "The Flat, Gold Forever")
In the 24th century a series of domes built on the Maltese asteroid belt formed an agricultural colony called The Armada. The Armada grew organic crops of fruits and vegetables which fed the people of an entire sector. (TNG - The Space Between comic: "Space Seeds")
External links
Edit
Ad blocker interference detected!
Wikia is a free-to-use site that makes money from advertising. We have a modified experience for viewers using ad blockers

Wikia is not accessible if you've made further modifications. Remove the custom ad blocker rule(s) and the page will load as expected.