Ad blocker interference detected!
Wikia is a free-to-use site that makes money from advertising. We have a modified experience for viewers using ad blockers

Wikia is not accessible if you've made further modifications. Remove the custom ad blocker rule(s) and the page will load as expected.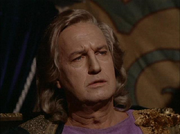 Akaar was a male Capellan who was the teer (ruler) of the Ten Tribes of Capella until his death in 2267. Akaar was killed in a Coup d'état orchestrated by Maab; Eleen, Akaar's wife, survived the coup along with her unborn son. (TOS episode & Star Trek 3 novelization: Friday's Child)
Akaar was the father of future Starfleet Admiral Leonard James Akaar. (DS9 novel: Twilight; et al)
Appendices
Edit
Background
Edit
Akaar was portrayed by actor Ben Gage in Star Trek: The Original Series in 1967.
Appearances and references
Edit
Appearances
Edit
References
Edit
External link
Edit