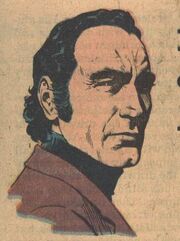 Alberto Giolitti was a comic book author who wrote many Star Trek: The Original Series comics for Gold Key Comics.
Alberto Giolitti was born in Rome, Italy. After World War II, Giolitti went on the road, living in numerous cities around the world, including Buenos Aires, New York City, and Lake George, Florida. Giolitti mastered the English language in his travels, after a period of culture shock when he visited New York's "Little Italy" neighborhood and was unable to understand the Americanized Italian language spoken there.
Giolitti died in 1993.
This article is a stub relating to an author, illustrator or other publishing production information. You can help our database by expanding on it.
Connections
Edit