Ad blocker interference detected!
Wikia is a free-to-use site that makes money from advertising. We have a modified experience for viewers using ad blockers

Wikia is not accessible if you've made further modifications. Remove the custom ad blocker rule(s) and the page will load as expected.
For other uses, see Alice.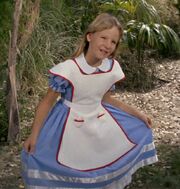 Alice was a character in the books Alice's Adventures in Wonderland and Through the Looking-Glass, both by human author Lewis Carroll.
A version of Alice appeared to Doctor Leonard McCoy during his visit to the Amusement Park planet. (TOS episode: "Shore Leave")
Morgan Primus adopted the nickname "Alice" after reading Carroll's books to her seven-year-old daughter, Robin (who she called "Cheshire" or "Ches"). (NF short story: "Lefler's Logs", "Alice, on the Edge of Night")
External link
Edit