Ad blocker interference detected!
Wikia is a free-to-use site that makes money from advertising. We have a modified experience for viewers using ad blockers

Wikia is not accessible if you've made further modifications. Remove the custom ad blocker rule(s) and the page will load as expected.
For information on alternate realities within the Star Trek universe, see the articles parallel universe and alternate timeline.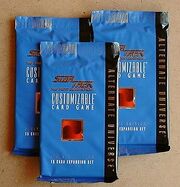 Alternate Universe is a Star Trek CCG expansion released by Decipher in November of 1995. New concepts introduced a new card type (Doorway cards), as well as cards with an Alternate Universe icon, that denoted their origins in a parallel universe. The set had 122 cards, including an ultra-rare card, the Future Enterprise.
Artifacts
Edit
Samuel Clemens' Pocketwatch R
Alien Labyrinth C
Cardassian Trap U
Coalescent Organism R
Conundrum C
Edo Probe U
Empathic Echo C
Ferengi Attack C
Frame of Mind U
Hidden Entrance C
Hunter Gangs C
Interphasic Plasma Creatures C
Malfunctioning Door C
Maman Picard U
Outpost Raid C
Parallel Romance U
Quantum Singularity Lifeforms U
Rascals U
The Gatherers C
The Higher... The Fewer U
Thought Fire C
Worshiper C
Zaldan U
Alternate Universe Door C
Devidian Door R
Equipment
Edit
Echo Papa 607 Killer Drone R
I.P. Scanner C
Baryon Buildup C
Captain's Log U
Engage Shuttle Operations U
Interrogation R
Intruder Force Field U
Lower Decks U
Mot's Advice U
Revolving Door R
The Charybdis U
The Mask of Korgano C
Thermal Deflectors U
Wartime Conditions R
Yellow Alert C
Interrupts
Edit
Anti-Matter Spread C
Barclay Transporter Phobia U
Brain Drain U
Countermanda C
Dead in Bed U
Destroy Radioactive Garbage Scow C
Devidian Foragers C
Eyes in the Dark C
Fire Sculptor C
Hail C
Howard Heirloom Candle C
Humuhumunukunukuapua'a C
Incoming Message: Attack Authorization U
Isabella U
Kevin Uxbridge: Convergence C
La Forge Maneuver U
Latinum Payoff C
Rescue Captives U
Romulan Ambush U
Security Sacrifice C
Seize Wesley R
Senior Staff Meeting U
Temporal Narcosis U
Thine Own Self C
Vorgon Raiders R
Vulcan Nerve Pinch C
Wolf U
Brute Force R
Compromised Mission R
Diplomatic Conference R
FGC-47 Research R
Fissure Research R
Qualor II Rendezvous U
Quash Conspiracy R
Reunion R
Risa Shore Leave R
Warped Space R
Personnel
Edit
Federation
Edit
Beverly Picard R
Lt. (j.g.) Picard U
Tasha Yar - Alternate R
Non-Aligned
Edit
Commander Tomalak R
D'Tan U
Major Rakal R
Federation ships
Edit
Klingon ships
Edit
Romulan ships
Edit
Nonaligned ships
Edit