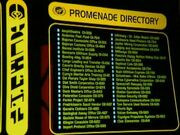 An amphitheatre is a venue for spectator sports, concerts, rallies, or theatrical performances. Typically an amphitheatre is formed with a central stage, and elevated rows of seating encircling it.
On Federation Starbase Deep Space 9, the space station's amphitheatre is located at central core location 01-005. (DS9 reference: Star Trek: Deep Space Nine Companion)
The amphitheatre was listed on the Promenade station directory set piece graphic seen throughout Star Trek: Deep Space Nine. The text of all the locations thereon was reproduced in the Deep Space Nine Companion reference.
Appendices
Edit
Connections
Edit
External link
Edit