Ad blocker interference detected!
Wikia is a free-to-use site that makes money from advertising. We have a modified experience for viewers using ad blockers

Wikia is not accessible if you've made further modifications. Remove the custom ad blocker rule(s) and the page will load as expected.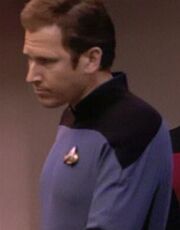 Lieutenant Andrew Powell was a Human male who served in Starfleet as a science officer in the late 24th century. In the 2360s, Powell was assigned to the USS Enterprise-D, under the command of Jean-Luc Picard.
Powell began dating Nurse Alyssa Ogawa in 2370, and within several months the couple were engaged to be married. Soon after the engagement, Ogawa fell pregnant with their first child, Noah Powell who was born in 2371. (TNG episodes: "Lower Decks", "Genesis"; TTN novel: Taking Wing)
Following the destruction of the Enterprise-D later that year, Ogawa and Powell signed aboard the Sovereign-class USS Enterprise-E. Unfortunately, Powell was killed in action during the Battle of Rigel in 2375, and was survived by Ogawa and Noah. TTN novel: Taking Wing)
Genesis Wave continuity
Edit
Powell and Ogawa had a girl named Suzi. The two later signed aboard the Enterprise-E in 2372, and the couple remained aboard with their daughter until at least 2377. (TNG novel: The Genesis Wave, Book 3)
Connections
Edit