For other uses, see Andromeda.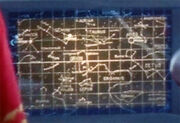 Andromeda is a constellation visible from Earth, named for its characterization as a mythical princess of the same name.
When star-gazing from Sespe in California in the 2270s, James T. Kirk traced over the constellations, through Cassiopeia, until he finally found Andromeda's border of the Triangulum constellation, near where he knew the too-faint-to-be-seen Romulan homesun would be. (TOS novel: My Enemy, My Ally)
This generalized area of space became the first widespread battleground of the Four Years War, the Battle of Andromeda. (FASA RPG module: The Four Years War)
The Federation starships named USS Andromeda are called as such for this region, the formations contained within and its mythological history.
Appendices
Edit
Connections
Edit
External links
Edit
Ad blocker interference detected!
Wikia is a free-to-use site that makes money from advertising. We have a modified experience for viewers using ad blockers

Wikia is not accessible if you've made further modifications. Remove the custom ad blocker rule(s) and the page will load as expected.