Ad blocker interference detected!
Wikia is a free-to-use site that makes money from advertising. We have a modified experience for viewers using ad blockers

Wikia is not accessible if you've made further modifications. Remove the custom ad blocker rule(s) and the page will load as expected.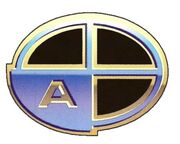 Andromeda is an inhabited star system located somewhere in the galaxy's Alpha Quadrant, in the area of space visible from Earth in the Andromeda constellation.
History and specifics
Edit
Andromeda is the location of a planetary system, the orbit of which included inhabitants on good terms with the Federation by the later 23rd century.
Around reference stardate 1/9410, starships of the Klingon Empire participated in attacks on Federation forces centered around the Andromeda system, in the Battle of Andromeda, the Federation's first major action against the Klingons following the declaration of the Four Years War. (FASA RPG module: The Four Years War)
A Starfleet crewman aboard the starship USS Enterprise had a sister who lived in the Andromeda system. He had a black cat that he had left to live with her during that vessel's five-year mission under the command of James T. Kirk in the 2260s decade. (TOS novel: Assignment: Eternity)
Connections
Edit