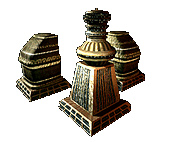 The Astrophysics Academy is a unique structure present on the Romulan homeworld of Romulus.
This building served as the heart of the Romulan Star Empire's study of interstellar phenomena and was, thus, an important part of the Romulan science community. Presumably, the Romulan Ministry of Science was in charge of the operations of the academy. (TNG video game: Birth of the Federation)
Ad blocker interference detected!
Wikia is a free-to-use site that makes money from advertising. We have a modified experience for viewers using ad blockers

Wikia is not accessible if you've made further modifications. Remove the custom ad blocker rule(s) and the page will load as expected.