Ad blocker interference detected!
Wikia is a free-to-use site that makes money from advertising. We have a modified experience for viewers using ad blockers

Wikia is not accessible if you've made further modifications. Remove the custom ad blocker rule(s) and the page will load as expected.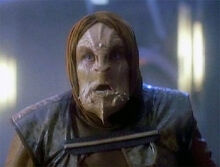 The B'kaazi are a humanoid species from the Alpha or Beta Quadrants. Some members of the species have been known to operate in illegal activities, such as smuggling and robbery. (DS9 episode & novelization: Emissary, DS9 episode: "The Passenger")
The Dominion was interested in the race, as evidenced by a member of the species being held by them in Internment Camp 371. (DS9 episodes: "In Purgatory's Shadow", "By Inferno's Light")
J.M. Dillard named the race in her novelization of "Emissary". The name was also used in the novel Betrayal.
External link
Edit