Ad blocker interference detected!
Wikia is a free-to-use site that makes money from advertising. We have a modified experience for viewers using ad blockers

Wikia is not accessible if you've made further modifications. Remove the custom ad blocker rule(s) and the page will load as expected.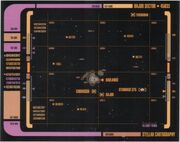 The Bajor sector - also known as Federation Sector 47 (TNG novel: Dead Zone) - was a region of space in the Alpha Quadrant which included the planet Bajor, the Bajoran wormhole, and Federation Starbase Deep Space 9. It contained more than twelve "major" star systems (Bajor-B'Hava'el system is the most well known). (Last Unicorn RPG module: Star Trek: Deep Space Nine - Narrator's Toolkit)
The Bajor sector borders the Almatha sector, which is part of the Cardassian Union. (DS9 novel: Warpath)
The sector's dimensions (in light-years) were: 85 (width) by 102 (long) by 90 (depth). (Last Unicorn RPG module: Star Trek: Deep Space Nine - Narrator's Toolkit)
Native species
Edit
Alternate realities
Edit
In an alternate reality in which the Federation was defeated by the Borg Collective at the Battle of Wolf 359 in 2367, the Borg occupation of the Alpha Quadrant had spread to the Bajor sector by 2371 and Deep Space 9 had been assimilated. While the USS Defiant of another reality was travelling between universes, it discovered the assimilated DS9 and was fired upon by a Borg cube before escaping to a different reality. (DS9 comic: "The Looking Glass War")
Appendices
Edit
This article or section is incomplete
This article is marked as lacking essential detail, and needs attention. Information regarding expansion requirements may be found on the article's talk page. Feel free to edit this page to assist with this expansion.
Connections
Edit
External links
Edit