Bajoran Militia
Talk

2
43,084pages on
this wiki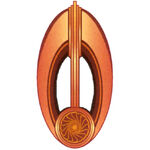 The Bajoran Militia (also known as the Bajoran Military Guard) was the military of the Republic of Bajor. (Star Trek: Deep Space Nine, DS9 novelization: What You Leave Behind)
Prior to the Occupation
Edit
The Militia was in existence by 2318, and was involved in the official first contact with the Cardassian Union during which members of the Militia were highly suspicious of the Cardassians.
As contact continued with the Cardassians and enclaves for the Oralian Way were constructed on Bajor, the Militia was slowly removed from a position of power and prestige. In 2323, Cemba Station was bombed and the Cardassians showed evidence that the Tzenkethi launched the attack. The Chamber of Ministers decided to send a reprisal fleet to hunt down any ships that may have been responsible for the bombing, so the Militia dispatched the Clarion and the Glyhrond. These two warships discovered a Tzenkethi warship in the Ajir system and engaged it. They were somewhat succesful, but two Cardassian warships attacked them, destroying the Bajoran ships and capturing the Tzenkethi ships. They then used the Tzenkethi vessel in an attack on Bajor itself, during which many Militia ships were destroyed or severely damaged, causing massive damage to the Militia. The Cardassians then came in and destroyed the ship. This allowed the Cardassians to gain a military base in the Bajor system and relegated the Militia to a minor role until it was disbanded at the beginning of the Occupation of Bajor. (TLE - Terok Nor novel: Day of the Vipers)
Reestablishment
Edit
Jaro Essa, who had served in the Militia before the Occupation, oversaw its reestablishment in 2369. (TLE - Terok Nor novel: Dawn of the Eagles)
Many members of the Resistance joined the Militia soon after the Occupation, including Kira Nerys and Lenaris Holem. (DS9 episodes: "Emissary", "Shakaar")
Several Militia personnel served with Captain Benjamin Sisko and his Starfleet crew aboard Deep Space 9 in a variety of positions. Major Kira was also given access to the USS Defiant. (DS9 episodes: "Emissary", "Defiant")
In late 2371, Kai Winn Adami (who was temporarily First Minister) sent the Militia to recover the soil reclamators that Shakaar Edon had refused to return. The Militia later pursued the former Shakaar members into the hills of Dahkur Province. (DS9 episode: "Shakaar")
As per Bajor's non-aggression pact with the Dominion, the Militia worked with the Dominion forces when they occupied the Bajoran system in late 2373 and early 2374. Several members later helped to overthrow the Dominion's control of Deep Space 9. (DS9 episodes: "A Time to Stand", "Sacrifice of Angels")
In 2374, a research vessel of the Militia, the Ke'el Tul, was destroyed by the Grigari near the Denorios Belt.
In 2375, Colonel Kira Nerys commanded a Militia impulse ship fleet in a blockade of Derna to stop the Romulans from arming the plasma torpedo launchers they had deployed there. (DS9 episode: "Shadows and Symbols")
In 2376, Lenaris Holem commanded the Militia's Lamnak fleet during the evacuation of the Europani from Europa Nova. (DS9 novel: Demons of Air and Darkness)
Federation membership
Edit
Although some members transferred to Starfleet after Bajor joined the United Federation of Planets in 2376, the Militia remained as the planet's defense force. (DS9 novels: Unity, Warpath)
In 2380, Federation President Nanietta Bacco offered to petition the Militia to patrol the Cardassian Union's "trouble spots", although Elim Garak believed the Castellan would not be receptive to the idea. (ST - Destiny novel: Mere Mortals)
Subdivisions
Edit
Structure
Edit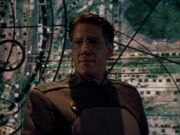 The Militia's rank structure is similar to a traditional Earth army. Its ranks are:
Past and present members
Edit
External link
Edit