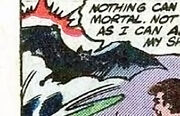 The bat was a flying mammal that was found on Earth and other planets.
When the USS Enterprise was traveling to the planet Thallus, a creature claiming to be Count Dracula appeared on the bridge and turned into a bat, then a mist. He escaped into the turbolift. (TOS comic: "The Haunting of Thallus!")
The followers of Khan Noonien Singh had taken refuge in a cavern that was once inhabited by bats on Ceti Alpha V. Khan had built up a supply of explosives from the nitrates found in the guano. (TOS novel: To Reign in Hell: The Exile of Khan Noonien Singh)
The Humans on Torgu-Va had collected droppings from a type of bat found on the planet to create nitrates. They also used the calls from the bat as identifying sounds in the tunnels outside of Federation Battle Station Torgu-Va. (TNG novel: The Forgotten War)
Types of bat
Edit
External links
Edit
Ad blocker interference detected!
Wikia is a free-to-use site that makes money from advertising. We have a modified experience for viewers using ad blockers

Wikia is not accessible if you've made further modifications. Remove the custom ad blocker rule(s) and the page will load as expected.