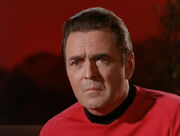 William Harrison Clanton (1862 - October 26, 1881) was a human male who lived in the 19th century. He was most famous for his membership in a gang of cowboys who became involved in a gun battle down the street from the O. K. Corral in October 26, 1881. Their adversaries were Wyatt Earp, Morgan Earp, Virgil Earp and Doc Holliday, arguably all members of a rival gang. Both sides were endorsed by local branches of law enforcement. By all legitimate accounts, Billy Clanton was a rancher and cowboy, and that was his first gunfight. Clanton, Frank McLaury and Tom McLaury were all killed in the gunfight.
In 2268, Billy Clanton's identity was imposed upon Montgomery Scott in a bizarre and rather inaccurate recreation of the shootout created by the Melkotians. (TOS episode: "Spectre of the Gun", TOS novelization: The Last Gunfight)
External links
Edit
Ad blocker interference detected!
Wikia is a free-to-use site that makes money from advertising. We have a modified experience for viewers using ad blockers

Wikia is not accessible if you've made further modifications. Remove the custom ad blocker rule(s) and the page will load as expected.