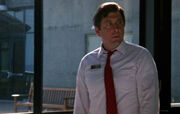 Bob Briggs was a Human male of the 20th century.
In 1986, Briggs served as the director of the Cetacean Institute in Sausalito on Earth. He ordered the return of George and Gracie to the ocean because the institute could no longer afford to keep them. This action caused him to get into an argument with assistant director Gillian Taylor. (TOS movie, novelization & comic adaptation: The Voyage Home)
Later that year, Briggs was questioned by Detective Chizum about Taylor's disappearance. Chizum initially felt that Briggs had been romantically involved with Taylor and killed her, but soon came to the conclusion that that wasn't the case. (TOS - Strange New Worlds VI short story: "Whales Weep Not")
External link
Edit
Ad blocker interference detected!
Wikia is a free-to-use site that makes money from advertising. We have a modified experience for viewers using ad blockers

Wikia is not accessible if you've made further modifications. Remove the custom ad blocker rule(s) and the page will load as expected.