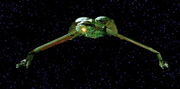 Bounty II was the name Montgomery Scott gave a B'rel-class Klingon bird-of-prey recovered from the Oort cloud of the Narisian system. Scott christened the ship in honor of the HMS Bounty, the Klingon Bird-of-Prey that he and his former crew mates had previously used to go back in time to save Earth from the Cetacean Probe.
Originally, in 2370, the Narisian Garamet located the bird-of-prey and used it to escape from Narisia along with her brother Wahlkon, fleeing from the overlord Proctors. The two pushed the couplers beyond their limits and the vessel stalled out; they were forced to switch to a Federation shuttlecraft, where they sounded a distress call and attracted the attention of Scott and the Goddard. Scott used the Narisian's shuttlecraft to draw away the pursuing vessel and located the bird-of-prey. He offered to drop the Narisians off at the nearest starbase, but kept the bird-of-prey himself, naming it the Bounty II.
After consulting with the logs of the original USS Enterprise, Scott escaped the USS Enterprise-D somehow and used the Bounty II and the Arhennius star to create a gravity slingshot back in time, intending to rescue James T. Kirk from the USS Enterprise-B before his apparent death by being drawn into the Nexus in 2293. Scott was successful in transporting out his former commanding officer at the appropriate moment, but he inadvertently caused the timeline to shift to an alternate universe; the Bounty II was lost when the timeline changed. (Star Trek novel: Engines of Destiny)
Ad blocker interference detected!
Wikia is a free-to-use site that makes money from advertising. We have a modified experience for viewers using ad blockers

Wikia is not accessible if you've made further modifications. Remove the custom ad blocker rule(s) and the page will load as expected.