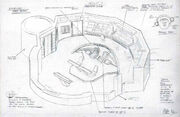 The bridge is the command center of a navy vessel. The term originated on aquatic vessels, but is also commonly used to refer to the control area of spaceships.
Starfleet bridge
Edit
On Starfleet vessels, and many others, the bridge is traditionally located on deck 1, or the top deck of the ship. It is from the bridge that many captains issues most of their commands. The bridge would typically give access to engineering, gravity control, damage control, environmental engineering, sciences and library computer, and security as well as helm control.
On Starfleet vessels, the bridge is often a replaceable module. This increases the flexibility of the ship's performance. (TNG novel: Crossover)
Appendices
Edit
External links
Edit
Ad blocker interference detected!
Wikia is a free-to-use site that makes money from advertising. We have a modified experience for viewers using ad blockers

Wikia is not accessible if you've made further modifications. Remove the custom ad blocker rule(s) and the page will load as expected.