Ad blocker interference detected!
Wikia is a free-to-use site that makes money from advertising. We have a modified experience for viewers using ad blockers

Wikia is not accessible if you've made further modifications. Remove the custom ad blocker rule(s) and the page will load as expected.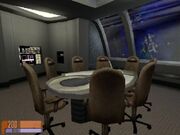 A briefing room is an area on a starship or in a facility where the command staff can meet to discuss events and plan their responses. Aboard starships, briefing rooms are usually located in proximity to the ship's bridge.
Space stations and starbase facilities with often equipped with numerous briefing rooms, while starships were usually only equipped with one dedicated briefing room. (TOS - My Brother's Keeper novel: Constitution)
Aboard NX-class starships in the 22nd century, the briefing room was referred to as the situation room, which was located at the rear of the bridge and was designated as an area for officers to discuss mission details. (Star Trek: Enterprise)
Aboard Galaxy-class and Sovereign-class starships in the 24th century, the briefing room was referred to as the conference or observation lounge. (Star Trek: The Next Generation)
Aboard some smaller starships, such as the Defiant-class, their was no dedicated briefing room due to the space requirements. Instead, there is a small table area at the back of the bridge or the mess hall could serve in some circumstances. (Star Trek: Deep Space Nine)
Deep Space 9 had a dedicated briefing room which was known as the ward room. During the 2370s, this room was also used to hold several social functions, such as receptions and weddings. (Star Trek: Deep Space Nine)
Constitution-classEdit
As originally designed, the early models of Constitution-class starships were only equipped with one dedicated briefing room. (TOS - My Brother's Keeper novel: Constitution)
In later models, and in those who had received extensive refits, they were equipped with at least two briefing rooms, but they were not located in proximity to the bridge. The windowless briefing rooms contained a conference table with a computer terminal for easy access to data, and an additional viewscreen was installed on the wall. (Star Trek: The Original Series; ENT episode: "In a Mirror, Darkly, Part II")
External links
Edit