Ad blocker interference detected!
Wikia is a free-to-use site that makes money from advertising. We have a modified experience for viewers using ad blockers

Wikia is not accessible if you've made further modifications. Remove the custom ad blocker rule(s) and the page will load as expected.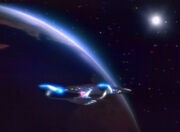 Bynaus was a Class M planet located in the Beta Magellan system, and was home to the Bynars. The natives referred to their world as 101100010100110.
In 2364, Bynaus' massive central computer was nearly wiped when radiation emitted by the native star was due to hit the planet. Several Bynars were dispatched to Starbase 74 to obtain a starship that had a large enough storage capacity to hold the planetary database. Eventually they were able to obtain the USS Enterprise-D and brought her to the planet along with Captain Jean-Luc Picard and Commander William T. Riker. With their help the system was uploaded to the Enterprise's computer until the crisis passed. (TNG episode: "11001001")
In the 2370s, Satr and Leen visited Bynaus where they obtained a computer worm they planned to implant in Deep Space 9's computer systems in 2374. (DS9 - Millennium novel: The Fall of Terok Nor)
External link
Edit