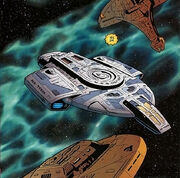 The Serron was a Cardassian Galor-class warship commanded by Gul Dracos.
In 2371, it, along with the Kenzha, was assigned to escort the USS Defiant through Cardassian space to Cardassia Prime for Benjamin Sisko's attempts to negotiate Thomas Riker's release. (DS9 comic: "Sole Asylum")
Ad blocker interference detected!
Wikia is a free-to-use site that makes money from advertising. We have a modified experience for viewers using ad blockers

Wikia is not accessible if you've made further modifications. Remove the custom ad blocker rule(s) and the page will load as expected.