The CDS Sudanit (CUW-80012) was a Cardassian Union starship, a Keldon-class (advanced variant) battleship in the 24th century, in service of the Obsidian Order in the 2370s decade.
History and specifications
Edit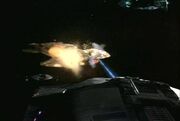 In the year 2371, the Sudanit was part of the combined Order/Tal Shiar fleet that launched an attack on the Founders' homeworld in the Gamma Quadrant, destroyed in the Dominion attack that followed. (Decipher RPG module: Starships)
Appendices
Edit
Connections
Edit
Background
Edit
It is possible Sudanit was among the unnamed Keldon-class starships seen in DS9 episode: "Defiant".
Ad blocker interference detected!
Wikia is a free-to-use site that makes money from advertising. We have a modified experience for viewers using ad blockers

Wikia is not accessible if you've made further modifications. Remove the custom ad blocker rule(s) and the page will load as expected.