For other uses, see Canis.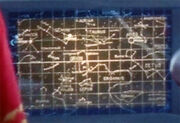 Canis Major is a constellation visible from Earth, named for its characterization as a great dog, compared to the more diminutive Canis Minor constellation. Objects of Canis Major are referred to by the genitive Canis Majoris, but the name had also been frequently shortened to Canaris by the 23rd century.
The Federation starships named USS Canis Major are called as such for this region, the formations contained within, and its mythological history. In addition, the starships USS Wezen, USS Murzim, USS Sirius, USS Adhara are all named for locales in this region.
External links
Edit
Ad blocker interference detected!
Wikia is a free-to-use site that makes money from advertising. We have a modified experience for viewers using ad blockers

Wikia is not accessible if you've made further modifications. Remove the custom ad blocker rule(s) and the page will load as expected.