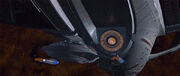 The captain's yacht was a type of auxiliary vessel installed aboard several classes of Federation starships in the 24th century, including the Galaxy-class and Sovereign-classes. On both designs, the yacht is launched from the underside of the saucer section and was used by the ship's captain to travel alone or to host visiting dignitaries.
While Captain Jean-Luc Picard commanded the USS Enterprise-D, he didn't often use the yacht in his eight years in command. This trend continued during his command of the USS Enterprise-E. While rarely using the yacht, he lost the Cousteau following a Son'a attack in 2375 and the Calypso was stolen by the Androssi and later destroyed in 2378. (TNG movie: Insurrection; TNG - A Time to... novel: A Time to Be Born)
Appendices
Edit
Connections
Edit
External link
Edit
Ad blocker interference detected!
Wikia is a free-to-use site that makes money from advertising. We have a modified experience for viewers using ad blockers

Wikia is not accessible if you've made further modifications. Remove the custom ad blocker rule(s) and the page will load as expected.