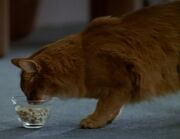 A cat (Felis sylvestris catus or Felis domesticus) is a small animal lifeform native to the planet Earth. A mammal, cats were felines that were domesticated by Humans thousands of years ago, and since that time have been kept as pets by Humans both on and off their homeworld.
Sometimes called "housecats", that term fell out of use by the 23rd century, to avoid confusion with the Meridian housecat, a large animal that hosted smaller symbiotic organisms. (TOS novel: Prime Directive)
See also: felinoid
Notable cats
Edit
Fictional and mythological cats
Edit
External link
Edit
Ad blocker interference detected!
Wikia is a free-to-use site that makes money from advertising. We have a modified experience for viewers using ad blockers

Wikia is not accessible if you've made further modifications. Remove the custom ad blocker rule(s) and the page will load as expected.