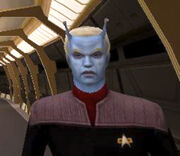 This category lists all Andorian characters.
Please add [[Category:Andorians]] to the bottom of any Andorian character's page that does not appear on this list.
Unwritten articles
Edit
Subcategories
This category has only the following subcategory.
Pages in category "Andorians"
The following 200 pages are in this category, out of 225 total.
A

B

C

D

E

F

G

H

I

J

K

L

L cont.

M

N

O

P

R

S

S cont.

T

U

V