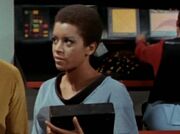 Charlene Masters was a 23rd century Human woman.
Biography
Edit
By the 2260s decade, she was a member of Starfleet. By the year 2267, she was a sciences division lieutenant had been assigned as an engineer on board the Federation starship USS Enterprise. (TOS episode: "The Alternative Factor")
As Montgomery Scott's protégé, Masters would occasionally be placed in charge of Engineering while Scott was stationed on the main bridge. (TOS novel: No Time Like the Past)
Appendices
Edit
Connections
Edit
Background
Edit
It is possible that Charlene Masters bears some relation to C. Masters, a crewperson on the USS Arkadelphia, but it seems unlikely they are one and the same, as C. Masters is a lower rank than Charlene was, at a later point in time, unless of course she was demoted.
Appearances and references
Edit
External link
Edit
Ad blocker interference detected!
Wikia is a free-to-use site that makes money from advertising. We have a modified experience for viewers using ad blockers

Wikia is not accessible if you've made further modifications. Remove the custom ad blocker rule(s) and the page will load as expected.