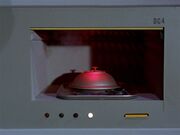 Chicken soup was an Earth food made of broth and chicken.
In 2270, Shaun Christopher was eating chicken soup when the USS Enterprise lost its artificial gravity and his soup ended up on the ceiling. (TOS novel: The Rings of Time)
Connections
Edit
External links
Edit
Ad blocker interference detected!
Wikia is a free-to-use site that makes money from advertising. We have a modified experience for viewers using ad blockers

Wikia is not accessible if you've made further modifications. Remove the custom ad blocker rule(s) and the page will load as expected.