A class-1 probe or more specifically class I sensor probe was a type of probe used by the Federation Starfleet in the 24th century.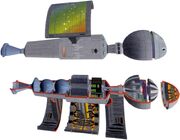 The probes had a range of 2x105 kilometers. They were powered by a vectored deuterium micro fusion engine which could propel them at warp 0.5. Their sensors included full EM-subspace and interstellar chemical palette for use in space. (TNG reference: Star Trek: The Next Generation Technical Manual, DS9 reference: Star Trek: Deep Space Nine Technical Manual)
Connections
Edit
External link
Edit
Class 1 probe article at Memory Alpha, the wiki for canon Star Trek.