Ad blocker interference detected!
Wikia is a free-to-use site that makes money from advertising. We have a modified experience for viewers using ad blockers

Wikia is not accessible if you've made further modifications. Remove the custom ad blocker rule(s) and the page will load as expected.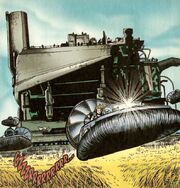 Corn is a plant and food crop native to Earth and a staple of diets of many Humans.
The homestead of the Kirk family in Riverside, Iowa on Earth's North American continent was located in an area of farmland that was predominantly cornfields. (TOS novel: Final Frontier)
Corn was grown in vast quantities on the agrarian planet Prairie, where it was harvested by large vehicles called Harvester rigs. In 2254 Captain Christopher Pike crash landed in the shuttlecraft Icarus into the corn fields of Prairie, igniting a fire in the crops which was quickly extinguished by the crew of the Harvester rig Rostok. Shortly after Pike piloted a skimmer over the corn fields while trying to evade his Klingon pursuers, but was shot down. Fortunately the corn provided him some cover allowing him to. (EV comic: "The Flat, Gold Forever")
External links
Edit