Counselor
Talk

0
43,620pages on
this wiki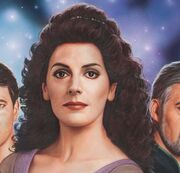 Definition from The Star Trek Encyclopedia: A Reference Guide to the Future 2nd Edition...
A counselor is a Starship officer responsible for the emotional well-being of the ship's crew. A Counselor's duties included providing individual guidance and advice to crew members, as well as periodic crew performance evaluations, usually performed with the ship's executive officer or other department heads. A counselor is also expected to provide advice to the ship's captain on command decisions.
Deanna Troi, Ezri Dax, Astall and Phillipa Matthias have all served as Starfleet counselors.
Morgan Bateson had at least one session with a Starfleet counselor, Bailey while adjusting to life in the 24th century, after emerging from nearly 80 years in a temporal causality loop. (TNG comic: "Out of Time")
counselors
Edit
Guinan, though not officially a counselor, is listed as an unofficial one according to Deanna Troi (via a report in Guinan's personnel file); this information is found at Startrek.com.
This article or section is incomplete
This article is marked as lacking essential detail, and needs attention. Information regarding expansion requirements may be found on the article's talk page. Feel free to edit this page to assist with this expansion.
Connections
Edit