Ad blocker interference detected!
Wikia is a free-to-use site that makes money from advertising. We have a modified experience for viewers using ad blockers

Wikia is not accessible if you've made further modifications. Remove the custom ad blocker rule(s) and the page will load as expected.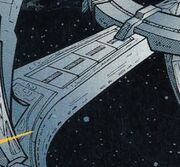 Crossover bridges are a large three-part section of Cardassian Nor-class space stations such as Deep Space 9 that connect the Habitat ring to the docking ring.
Crossover bridges are composed of seventy percent rodinium, twenty-six percent kelindide and four percent toranium. (DS9 reference: Star Trek: Deep Space Nine Technical Manual)
Following the assassination of Shakaar Edon in 2376, Ro Laren ordered constant security patrols of the crossover bridges. (DS9 - Mission Gamma novel: Lesser Evil)
The Frontier-class Deep Space 9 had six crossover bridges that connected the docking ring to the central sphere of the station. (ST - Typhon Pact novel: Raise the Dawn, ST - The Fall novel: Revelation and Dust)
Appendices
Edit
Connections
Edit
External link
Edit