Ad blocker interference detected!
Wikia is a free-to-use site that makes money from advertising. We have a modified experience for viewers using ad blockers

Wikia is not accessible if you've made further modifications. Remove the custom ad blocker rule(s) and the page will load as expected.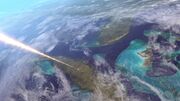 Cuba was an island and nation-state, located off the North American continent of planet Earth. It is unspecified whether or not Cuba became a member of the Caribbean Alliance.
In 2153, Cuba was one of the regions of Earth attacked by the prototype Xindi superweapon. (ENT episodes: "The Expanse", "The Xindi")
In the 22nd century Antonio "Tony" Ruiz was a native of Cuba, Ruiz originally traveled to Sauria as a mining engineer and stayed on as a medic after plague struck the area of the planet he was working in. He would later stay on Sauria to fight Maltuvis when he began moving to take over the planet. Ruiz was originally from west of Havana where his family lived. In 2153 when the Xindi attacked Earth his family was not affected, however his girlfriend in Santa Clara perished in the attack. (ENT - Rise of the Federation novel: Tower of Babel)
The family of USS da Vinci transporter operator Diego Feliciano lived in Havana, Cuba in the 24th century. (SCE eBook: Wildfire, Book 1)
Noted Cubans
Edit
Connections
Edit
External links
Edit