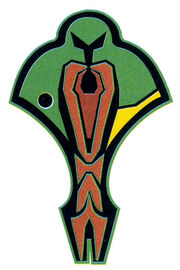 Cuellar IV is the fourth planet of the Cuellar star system.
In 2375, in the mirror universe, Zek wanted the Defiant and the Capital Gain to attack the Cardassian civilian population, mostly farmers, on Cuellar IV, following the successful attack and destruction of Vareth Dar. O'Brien was appalled at the notion of attacking civilians and forced Zek to abandon his plan to attack Cuellar IV. (DS9 - Mirror Universe novel: Saturn's Children)
Connections
Edit
Ad blocker interference detected!
Wikia is a free-to-use site that makes money from advertising. We have a modified experience for viewers using ad blockers

Wikia is not accessible if you've made further modifications. Remove the custom ad blocker rule(s) and the page will load as expected.