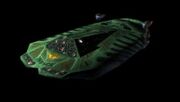 The D'retex-class colony ship was a support vessel used by the Romulan Star Empire in the 24th century.
These starships were essential in the establishment of Romulan colonies and were modular, allowing them to be disassembled and their parts used to construct an outpost for the colonists.
They were unarmed making them a target for raiders and pirates. (TNG video game: Birth of the Federation)
Known vessels
Edit
Connections
Edit
Ad blocker interference detected!
Wikia is a free-to-use site that makes money from advertising. We have a modified experience for viewers using ad blockers

Wikia is not accessible if you've made further modifications. Remove the custom ad blocker rule(s) and the page will load as expected.