The D'ridren class destroyer was a type of starship used by the Romulan Star Empire.
These were more of a warship compared to the smaller D'renet-class scout ships and thus more suited to combat operations. Like most Romulan ships, the D'ridren-class were equipped with a cloaking device making them very effective in combat situations. They were armed with a mixture of disruptors and plasma torpedoes. (TNG video game: Birth of the Federation)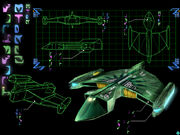 Connections
Edit
Ad blocker interference detected!
Wikia is a free-to-use site that makes money from advertising. We have a modified experience for viewers using ad blockers

Wikia is not accessible if you've made further modifications. Remove the custom ad blocker rule(s) and the page will load as expected.