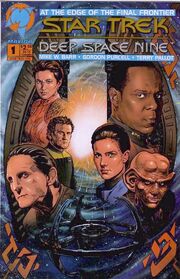 Star Trek: Deep Space Nine comics were first published by Malibu when the series started and DC Comics were still publishing TNG and TOS comics.
Malibu ran a monthly series and produced numerous specials before Marvel eventually took over also producing a monthly series and including DS9 in their multi-series Telepathy War saga. The last Star Trek comics published by WildStorm were two miniseries which were part of the DS9 relaunch and a story in the Star Trek: Special.
A Deep Space Nine comic series by IDW Publishing was published in early 2010. The series had become "easily the most requested series" by IDW readers. [1]
In March 2009, the Best of DS9 omnibus was released as part of the Star Trek Archives series. This collected the first four DS9 comics.
List of Comics
Edit
Malibu Comics
Edit
Monthly Series
Edit
Stowaway (part 1) by Mike W. Barr
Stowaway (part 2) by Mike W. Barr
Old Wounds by Mike W. Barr
Emancipation (part 1) by Mike W. Barr
Emancipation (part 2) by Mike W. Barr
Field Trip by Mike W. Barr | Pickpocket by John Vornholt | "Program 359" by Colin Clayton and Chris Dows
Requiem (part 1) by Mark A. Altman
Requiem (part 2) | Hearts and Minds: Prelude by Mark A. Altman
Baby on Board by Charles Marshall
Lapse by Charles Marshall
Dax's Comet, Part II by Jerry Bingham
Shanghaied by John Vornholt
Hearts of Old by Laurie S. Sutton | War Games by Mark A. Altman
Mission of Mercy by Dan Mishkin
Last Remains by Dan Mishkin
Fadeout by Dan Mishkin
Deep Space Mine by Dan Mishkin
The Secret of the Lost Orb: The Search by Dan Mishkin
The Secret of the Lost Orb: Acceptable Losses by Dan Mishkin
The Secret of the Lost Orb: Gods of War by Dan Mishkin
Genesis Denied, Part I by Colin Clayton and Chris Dows | Mudd's Pets, Part I by Randy Lofficier and Jean-Marc Lofficier
Genesis Denied, Part I by Colin Clayton and Chris Dows | Mudd's Pets, Part II by Randy Lofficier and Jean-Marc Lofficier
Friend and Foe Alike by Dan Mishkin
Sole Asylum (part 1) by Mark Paniccia | Enemies & Allies (part 1) by Mark Paniccia and Tim Russ
Sole Asylum (part 2) by Mark Paniccia | Enemies & allies (part 2) by Mark Paniccia and Tim Russ
Turn of the Tide by Colin Clayton and Chris Dows
One Spot Specials
Edit
Celebrity Series
Edit
Mini-series
Edit
---
Marvel Comics
Edit
Monthly Series
Edit
Telepathy War Part 4: Heart of Darkness by Dan Abnett and Ian Edgington
The Warrior by Dan Abnett and Ian Edgington
---
WildStorm Comics
Edit
IDW Publishing
Edit