Ad blocker interference detected!
Wikia is a free-to-use site that makes money from advertising. We have a modified experience for viewers using ad blockers

Wikia is not accessible if you've made further modifications. Remove the custom ad blocker rule(s) and the page will load as expected.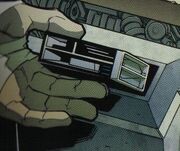 The Data record was a Klingon computer storage medium used in the 22nd century. It is thicker than the Federation Data card.
In the year 2285 Valkris had copied Admiral James T. Kirk's report on the Genesis Device to a data record. After she had transmitted the data to Commander Kruge, he had kept his copy on a data record. (TOS novelization: Star Trek III: The Search for Spock)
In 2293, Kahnrah reviewed a data record of his ancestor, Commander Krell. (TOS comic: "The Order of Things")