Ad blocker interference detected!
Wikia is a free-to-use site that makes money from advertising. We have a modified experience for viewers using ad blockers

Wikia is not accessible if you've made further modifications. Remove the custom ad blocker rule(s) and the page will load as expected.
Deep Space 5 was a Federation starbase, a space station in the Typhon sector.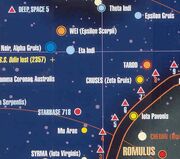 Originally designed as a standard Deep Space Starbase, it was converted into a military base with the primary purpose of serving as a first line of defense against the Borg. Deep Space 5 was constantly upgraded with the latest in sensor technology to scan for approaching Borg ships. (Last Unicorn RPG module: Star Trek: Deep Space Nine Core Game Book)
As of the year 2370, DS5 was responsible for new ship development, along with Utopia Planitia Fleet Yards, Starbase 47, and the Federation colony on Iadara. (TNG episode: "Parallels")
In 2373, DS5 became the temporary home for thousands of Thallonian refugees after the fall of the Thallonian Empire. The station was packed to capacity, with even the conference rooms serving as shelter.
The so-called Thallonian summit was held on board the USS Enterprise-E while docked at the station. (NF novel: House of Cards)
Also in 2373, Deep Space 5 reported the complete destruction of the colony on Ivor Prime. It was subsequently determined that the Borg were responsible, and were launching a new invasion of the Federation. Admiral Hayes sent this information to Captain Jean-Luc Picard on the USS Enterprise-E. (TNG movie: First Contact)
Alternate reality
Edit
In one quantum alternate reality visited by Worf, the Cardassian Union was covertly surveilling the station. (TNG episode: "Parallels", ST website: Startrek.com)
Appendices
Edit
Connections
Edit
External link
Edit