Ad blocker interference detected!
Wikia is a free-to-use site that makes money from advertising. We have a modified experience for viewers using ad blockers

Wikia is not accessible if you've made further modifications. Remove the custom ad blocker rule(s) and the page will load as expected.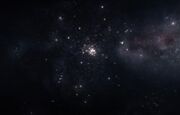 The Delta Volanis Cluster was a region of space in the Vulcan sector, in the Beta Quadrant. There were populated planets, including homeworlds and Federation colonies. In 2409, factions operating in this region included the Federation, the Klingon Empire, the Gorn and Nausicaans. (STO mission: "Explore the Delta Volanis Cluster")
In 2409, Lieutenant Grall was responsible for Starfleet exploration missions into the Delta Volanis Cluster, the unexplored region closest to Sol. Most of the systems within the clusters were unknown. (STO mission: "Explore the Delta Volanis Cluster") Some of the planets required commodities such as shield generators. (STO mission: "Relief Effort") By 2410, the Alpha Quadrant Alliance member states conducted a variety of operations in the cluster, including diplomatic, medical and tactical missions. (ST video game: Star Trek Online)
Appendices
Edit
Connections
Edit
Background
Edit
Before the Season 9.5 update (July 17th, 2014) in Star Trek Online, the Delta Volanis Cluster was located off the border of the Vulcan sector.
There is a star named Delta Volantis in the Volans constellation.
External link
Edit