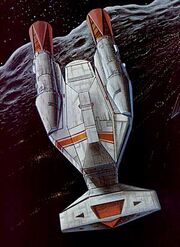 A
destroyer
is a type of military
starship
intended to escort vessels in a fleet and defend them from attack, giving this type of vessel similarities with
escort
ships. Destroyers can be further classified as
heavy destroyers
.
Starfleet starship classes that fill this role include the Marshall-class, Saladin-class, Akula-class, and Baker-class.
Destroyers were useful vessel types in areas where treaty agreements forbade larger, more heavilty armed vessels from encroaching on neighboring powers. (FASA RPG module: Demand of Honor)
Destroyer vessels
Edit
External links
Edit
Ad blocker interference detected!
Wikia is a free-to-use site that makes money from advertising. We have a modified experience for viewers using ad blockers

Wikia is not accessible if you've made further modifications. Remove the custom ad blocker rule(s) and the page will load as expected.