Ad blocker interference detected!
Wikia is a free-to-use site that makes money from advertising. We have a modified experience for viewers using ad blockers

Wikia is not accessible if you've made further modifications. Remove the custom ad blocker rule(s) and the page will load as expected.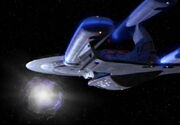 The Devron system is a star system in Beta Quadrant situated somewhere in the Romulan Neutral Zone about 33 light years away from Sol and relatively close to the planet Vulcan.
In 2377 the Devron system was the site of a rendezvous between the USS Incursion and a Borg Cube to discuss an alliance to defeat the Wardens. Soon after the system was also the site of the Cube's destruction following the Collective's request that a team from the Incursion destroy the vessel rather than allow it to fall into the hands of the Wardens. (ST video game: Away Team)
In the alternate future created by Q, the Devron system was the site of an anti-time eruption. (TNG episode, novelization & comic adaptation: All Good Things...)
Connections
Edit