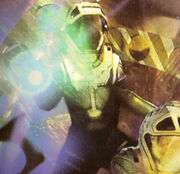 Dey was a male in Starfleet in the 24th century. In 2376, Mr. Dey was serving on the USS Enterprise-E as a security officer.
In April of that year, Dey beamed to the Cardassian freighter Kamal to instruct an away team on the vessel to return to the Enterprise after the Enterprise's short range communications had been damaged by plasma activity in the Badlands. (DS9 novel: Avatar, Book One)
Ad blocker interference detected!
Wikia is a free-to-use site that makes money from advertising. We have a modified experience for viewers using ad blockers

Wikia is not accessible if you've made further modifications. Remove the custom ad blocker rule(s) and the page will load as expected.