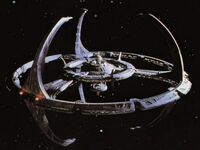 The docking pylons are extensions of the hull of a space station (usually narrow compared to their length) to increase the number of places where a ship might dock with the station.
Nor-class Cardassian space stations have six pylons, usually used to dock larger ships. Three radially-symmetrcal pylons curve above main docking ring at the center of the station and three extend beneath it. The docking pylons are manufactured from twenty-six percent kelindide. (DS9 reference: Star Trek: Deep Space Nine Technical Manual)
Watchtower-class Federation space stations have six pylons wich extend radially from the "shaft" of the station.
Appendices
Edit
Connections
Edit
External link
Edit
Ad blocker interference detected!
Wikia is a free-to-use site that makes money from advertising. We have a modified experience for viewers using ad blockers

Wikia is not accessible if you've made further modifications. Remove the custom ad blocker rule(s) and the page will load as expected.